I am so excited. The edit is done. Besides editing for 20 days I was also working on my pitch for "The Mason of Hearts"
My Editing Journey
This is me after I finished the 6th edit.
And this is me still.
It's such a lovely feeling to know it's done, the 6th edit at least.
And I'm also excited to be able to get some sleep. This little guy is how I was.
Tomorrow I am sending the book baby off to the editor. This will be me.
But this will be me too… Waiting… and hyperventilating…
I will be doing a lot of this…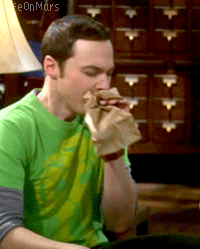 And this…
This too (except via email)
But, this will be me when I see that I have a new email in my inbox from my editor.
And then I'll put on some fun music and dance some more. But then…
This will be me before I open the edited manuscript…
Benedict Cumberbatch knows best: I'll take a deep breath & then I'll read the edits.
And then I'll get my editing brain on and dive into my 7th edit.
What is your editing journey like?
If you enjoyed this post, you may also like: